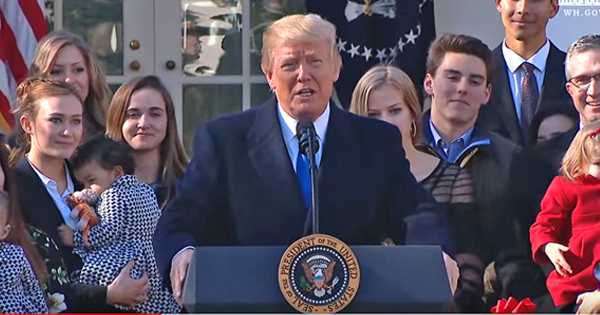 Between 75 to 80 million people voted for President Trump. Many believe the number is 80 million votes. This is a historic landslide victory that the fake news hides from people. President Trump's popularity is because of favoring God and country, which is what the people believe.
From playing "God Bless the USA" to being pro-life, and from America First to bringing jobs back from overseas, President Trump is loved.
"I am especially proud to be the first president in decades who has started no new wars," said President Trump.
Something great happens when God is honored. The Bible says, "Blessed is the nation whose God is the LORD" in Psalm 33:12. The key to blessings is to follow Jesus Christ. History proves this.
Look at the results with President Trump. Over 7 million new jobs, middle class income up $6,000 and record unemployment.
"FAKE NEWS IS THE ENEMY OF THE PEOPLE!" says President Trump. Hopefully, more people will understand that most of the problems we face come from the anti-God and anti-America lies of CNN, ABC, NBC, CBS, Fox News and the mainstream media. To help AmericaFirst.win news go full time, consider making a donation today. When we raise $20,000 we will have the required funds to operate full time.
There is a new search engine launching that gives real news and is a patriot. This is the new Pro-America search engine 1776Free. Known as the conservative alternative search to Google, 1776Free is "the answer to Google and others censoring Christians, Conservatives, Patriotic Speech, Family Values, and Liberty." The 1776Free crowdfunding page explains the details.
"In God we trust" and "the best is yet to come," President Trump says.
The founding fathers are famous for "no king but king Jesus" and combine Christianity and government together as God commands. This is the secret to America's greatness.
If we put the Lord first place, then we are assured to be blessed.
There is hope. By putting Jesus Christ first place in our lives and the USA by obeying God's laws in the Bible, then God will judge those who committed treason and President Trump will be in the White House.
"God bless America," says President Trump.
Help AmericaFirst.win Go Full Time