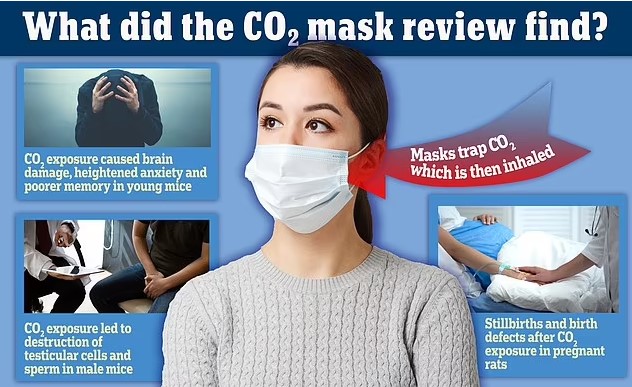 The people who pushed masks harmed people. "Face masks may raise the risk of stillbirths, testicular dysfunction and cognitive decline in children, 'explosive' new research suggests. A review of dozens of studies on face coverings suggested they can cause mild carbon dioxide poisoning when worn over long periods," reported the Daily Mail. This is another report that shows USA.Life social network saved the most lives by providing real news on Covid. People on Facebook, Twitter and many other social networks had misinformation and their health may have suffered.
"The German academics who carried out the research believe masks create a pocket of dead space between the mouth and mask, which traps the toxic gas. They say the build-up of CO2 in pregnant women's bodies could cause complications for the unborn fetus. They point out that CO2 also contributes to oxidative stress, which can affect cognition and cause testicular issues in men," the report continues.
"They found that after wearing a mask for more than five minutes, CO2 levels in the inhaled air rose to between 1.4 percent and 3.2 percent. One mask study conducted in Germany, researchers measured the CO2 concentration of air behind surgical masks worn by 15 healthy men. Within 30 minutes, the CO2 concentration rose to roughly 2.8-3.2 percent," the report continues.
Many other studies show that masks are harmful to people's health. Mask holes are 1000 times larger than Covid. Experts believe it is anti-science to wear a mask. Democrats abused children and others.
People should be outraged at Democrats, Fauci and the WHO for harming them and their loved ones.
"The only hope is to make God top priority of the USA. To heal our land, will you cry out to God an hour daily for a Christian Nation government now in revival with me? You can watch 'Save America Revival! daily," said Steven Andrew. The caring pastor is leading a big revival and asks Christians to join.
BE ON GOD'S SIDE. PRAY: Lord, You say, "I the LORD love judgment" of justice. Isaiah 61:8. The USA agrees. We ask for Your law and order to fill the USA. As Romans 13:4 KJV teaches, we cry out to You for lawful powers to "execute wrath upon him that doeth evil" including with lawful justice for treason against shot, mask and lockdown pushers who harmed and killed millions of people according to VAERS and reports. In Jesus' name. Amen.
> To join Pro-God and Pro-America USA.Life social network, sign up at USA.Life