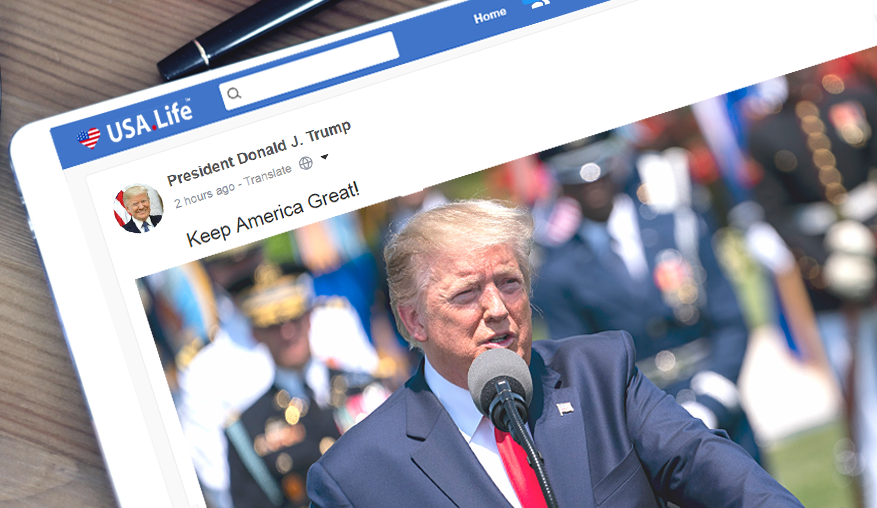 (San Jose, CA, 8/25/20, Press Release) As more reports emerge of Facebook and Twitter censoring President Trump, conservatives, and Christians, a fast-growing "patriotic social network," USA.Life, is seeing Republicans sign up quick. Now, with the Republican National Convention, CEO Steven Andrew announced it is "invite Republicans to Pro-America USA.Life week".
What makes USA.Life different is the platform honors America. "People who love America find a friendly home on USA.Life without being bullied or censored," Andrew said.
Andrew hopes "all patriotic Americans" join. He said, "USA.Life is the leading conservative Facebook alternative". The platform hopes to exceed one million users soon. Already, over 110,000 businesses, groups, churches, and people have signed up. "It is amazing; USA.Life outperforms larger sites," Andrew said.
Andrew, a conservative Silicon Valley technology expert, launched USA.Life in 2019. Previously, Andrew led business and tech initiatives for the Fortune 500, such as Cisco and Meredith's Better Homes and Gardens. He also provided technology leadership to Stanford University.
Andrew asks individuals and GOP groups "to get the word out about saving America with USA.Life," so "thousands, if not, millions of Republicans sign up this week and gain the support to succeed".
USA.Life offers a unique American Flag "Patriotic" reaction to share on posts and comments.
Andrew said, "USA.Life is where friends, families, businesses, and churches share photos, videos, news, and messages, and join public and private groups". The platform already has the functionality one would expect and need.
USA.Life keeps all user information private and does not sell user's information to marketers. There is no shadowbanning on USA.Life, so a user with 2,000 friends has their post seen by all their friends. Users can have 10,000 Friends, which is twice as many as Facebook. Pages and groups are unlimited in size.
USA.Life reviews by users are:
"…so glad there's a viable alternative to Facebook," said Jeremy Cox.
"I am emailing and telling everyone I know about this new platform," said Olivia Reid.
"I am so happy with this site. I couldn't be on Facebook due to their policies and methods of undermining American culture," said Buck Wampum.
"What a refreshing alternative to Facebook! Nice to see Christian and conservative posts," said Donna Bowman.
"I just love being able to go around and slap flags on everything," said Bonnie Moore.
"I am thankful for USA.Life which is uplifting, loves the USA and honors God," said Ben Johnson
Andrew is making the "Pro-America Internet" and is getting ready to launch 1776Free search engine, which he expects to be "another Republican favorite website." 1776Free's crowdfunding page says it is "the answer to Google and others censoring Christians, conservatives, patriotic speech, family values, and liberty."
To gte a free account, go to www.USA.Life and sign up.
About USA.Life
USA.Life is the fast-growing Republican Facebook alternative. To connect with people, businesses, and churches, get a free account at www.USA.Life.