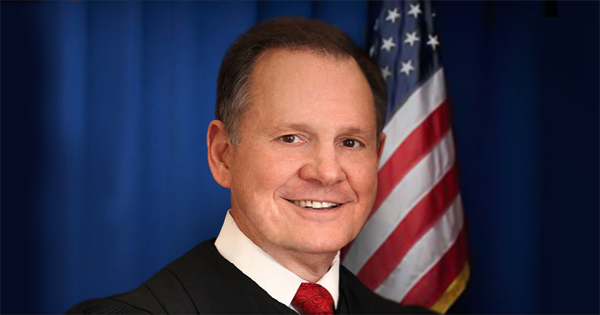 A new poll finds that Roy Moore, the man who faithfully stands up for God and wants Alabama blessed by God, leads the Alabama 2020 GOP Senate Race.
Moore leads by 9 points with 27% support in the the Mason Dixon poll. Mo Brooks has 18% support for second place.
Moore is known for a lifetime of standing up for God and very well respected. Most people in Alabama want a Republican to replace the ungodly Doug Jones, who mocks God.
Moore was all set to win the special election in 2017, but the Washington Post and others brought out what many say are false accusations about Moore. The Bible shows that Jesus Christ was also falsely accused by evil people.
Roy Moore was proven innocent of sexual accusations, after taking a polygraph test. An affidavit stated Moore "successfully completed" the polygraph test "confirming the representations of misconduct made against him during the campaign are completely false." The affidavit was given by Moore on December 27, 2017.
Earlier AmericaFirst.win reported the forged yearbook signing, how the Gadsden Mall Manager denied the claims by the cop accuser, and several other reasons why Moore is innocent.
This news story gives 7 reasons why Moore is innocent.
Christians generally believe Moore is the most qualified candidate who meets the Biblical requirements for leaders in Exodus 18:21. God says, "Moreover thou shalt provide out of all the people able men, such as fear God, men of truth, hating covetousness; and place such over them, to be rulers…"
Many are asking Moore to officially run.
This Mason-Dixon Polling & Strategy, Inc. poll was taken from April 9 to 11, 2019. A total of 625 registered Alabama voters were interviewed statewide by telephone.