President Trump quoted Isaiah 9:6 in a special Christmas message to the nation. The President affirmed the government is upon Jesus' shoulder, which historians say is what America's Christian founding fathers established.
"As the book of Isaiah tells us, for to us a child is born, to us a son is given and the government will be on his shoulders and he will be called Wonderful Counselor, Mighty God, Everlasting Father, Prince of Peace," said President Trump.
The Bible Says to Obey King Jesus
"Affirming the government is upon Jesus' shoulders, by the President, is a direct result of the growing number of Christians proclaiming Jesus Christ is King of the USA," Andrew said. In revival, he is leading the nation to reaffirm covenant that the USA serves the Lord, including that we have "no king but King Jesus".
Christians are thankful across the country.
Andrew was especially glad to hear the President reaffirm Jesus Christ's dominion, because that is what God calls leaders to do in Psalm 2.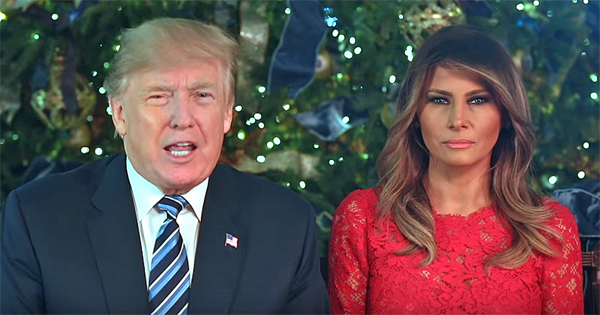 "One of the seven secrets to why God blesses the USA is we believe Jesus is our King. All lawful government is in submission to King Jesus, so President Trump did God's will by acknowledging Jesus Christ. However, those in rebellion to God, such as the Democrats, Mitch McConnell and the swamp GOP won't quote Isaiah 9:6. That is why God wants Christians to oppose the swamp of corruption, since the swamp follows the devil," Andrew said.
Earlier in the Christmas message President Trump said, "In the season of joy, we spend time with our families, we renew the bonds of love and goodwill between our citizens and most importantly we celebrate the miracle of Christmas."
President Trump Focuses On the Story of Jesus
The President also said, "For Christians, we remember the story of Jesus, Mary, and Joseph that began more than 2,000 years ago.  This good news is the greatest Christmas gift of all, the reason for our joy and the true source of our hope."
Andrew leads One Million Americans on the LORD's side, which are the top Christians saving the USA. He gives the details on what Christians must do to truly make the USA great again in the books, "Jesus Makes America Great" and "Save America".
Andrew's video on having "no king but King Jesus" follows, as does President Trump's full Christmas message.
Recently, President Trump stood up to protect Christian religious liberty and said, "We pledge allegiance to one nation under God." This video message is worth watching and can be seen here.
President Trump in the White House standing up for America is a huge improvement over Barack Obama, who helped Islamic terrorists and committed treason against the USA by giving Russia 20% of the USA's uranium, along with Hillary Clinton and the FBI. The Bible explains that Obama was God's judgment for our national sins.