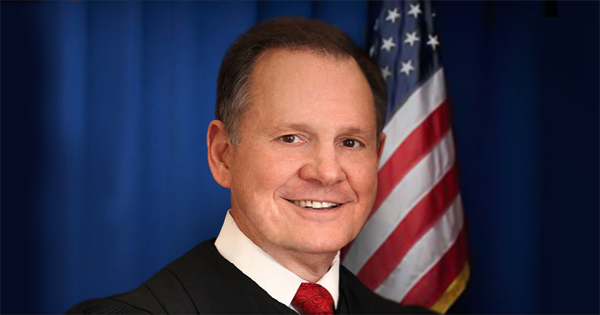 Is Roy Moore being falsely accused of things he did not do? Steven Andrew says Roy Moore is innocent and gives 7 Biblical reasons why. Andrew leads One Million Americans on the LORD's Side and is the author of Save America.
"The USA needs Roy Moore in the Senate, because he stands up for God more than any other civil servant. God's blessings come to the nation by voting for Moore. But people would be cursed with radical Doug Jones, because Jones opposes the Bible," said Andrew.
Across the nation people are standing with Roy Moore, for they believe he is the strongest to protect the country, fight crime and restore decency. Moore has an 8 point poll lead. Andrew gives these 7 reasons to support Moore:
1. Roy Moore's Accusers Are Discredited
The Washington Post Is Fake News – The source of the accusations, the Washington Post, is called "dishonest" by President Trump. Many people suspect the allegations against Moore of 40 years ago are a Democrat smear campaign, with Swamp Republicans (Mitch McConnell…) joining Democrats to oppose Moore. Before any of the accusations, McConnell and the swamp GOP spent $30 million trying to defeat Moore. Did the swamp GOP orchestrate for Moore to stop running? The GOP calls happened so fast and without evidence. The Washington Post openly endorsed the George Soros backed Democrat, Doug Jones, in the primary.
The Hoax Yearbook Signature – Beverly Nelson admitted she forged her yearbook signing to falsely accuse Christian Roy Moore. The handwriting varies as if written by different people (including the differences in the 7's). The signature contains Moore's court assistant's initials "D.A.," so the signature is a copy of a legal document superimposed on the yearbook. The accuser's lawyer, Gloria Allred, is known to be anti-God and refused third party analysis of the yearbook. Moore is telling the truth and is innocent.
Mother of Accuser Said Accuser Has "Violent Nature" – Tina Johnson's motive is in question. The reason is Moore represented Johnson's mother who won the custody fight for Tina's child. According to court documents, the mother of Johnson said Johnson has a 'violent nature' and a history of criminal fraud against her own family. Johnson "has pled guilty to writing bad checks, and for third-degree theft of property," according to AL.com. Yet, Moore is known as an loving family man with the highest integrity.
Mall Manager Denies Moore Was Banned – The Gadsden Mall manager, Barnes Boyle, denies that Roy Moore was banned. This discredits the Mall accusations against Moore.
Cop Accuser Admits Unsupported Claims – Faye Gary, a former Gadsden police officer, admitted to making unsubstantiated claims against Moore. This is another incidence of fake news MSNBC misleading Americans, as they did not vet the story.
Accuser Claimed Several Pastors Made Sexual Advances; Is Divorced 3X and Bankrupt 3X – Accuser Leigh Corfman has been divorced three times, filed for bankruptcy three times, has purportedly been charged with several misdemeanors and has reportedly "claimed several pastors at various churches made sexual advances at her," based on reports. According to Breitbart, Corfman is also known for drinking, drugs and an attempted suicide attempt.  Corfman exhibited "certain disciplinary and behavioral problems" and had evidence of behavioral problems prior to the alleged encounters with Moore.
Paid $1000 to Make Accusation – At least one woman is claimed to be paid $1000 to make an allegation against Moore, and there are claims the Washington Post offered $7,000 to $9,000.
Accuser Worked for DNC – Accuser Debbie Gibson is reported to work for the DNC and Hillary Clinton, opposes President Trump and actively campaigned for Moore's opponent. Gibson never filed a police report or accused Moore previously in 40 years.
The Mainstream Media Hides the Truth from the USA – The mainstream media, from Fox to CNN, called strongly for Roy Moore to step down, without having any evidence. They have hidden the truth about Moore being innocent, as the accusers are exposed as liars. God says, "Thou shalt not bear false witness" (Exodus 20:16). The mainstream media is globalist and hates Roy Moore because he is for God and country.
If you want to make the USA great again, then donate today to launch AmericaFirst.win with expanded coverage. We are not government funded and need to raise $24,000 from readers to operate full-time with real news for America!
2. Jesus Christ Was Falsely Accused
The Word of God affirms that evil people brought false accusations against the Lord Jesus Christ, even though He never sinned. Mark 14:55-56 says, "the chief priests and all the council sought for witness against Jesus… For many bare false witness against him".

So, it is not hard to believe that radical leftists, the Washington swamp and fake news producers could lie to steal an election. The swamp and fake news media lied about President Trump.
3. No Sexual Misconduct Accusations in 40 Years of Public Office
The accusations against Moore never came out prior in 40 years of scrutiny.
Roy Moore released this statement:
"A month prior to the general election for U.S. Senate in Alabama, I have been attacked by the Washington Post and other liberal media in a desperate attempt to smear my character and defeat my campaign.
Over the last 40 years I have held several public offices, including Deputy District Attorney, Circuit Judge, and Chief Justice of the Alabama Supreme Court… The Alabama Judicial Inquiry Commission, Court of the Judiciary, and Attorney General have investigated, scrutinized, examined, and vetted me, not to mention every opposing candidate against whom I have run.
I have been married for almost 33 years to my wife Kayla. We have four children and five granddaughters.
4. Don't Christians Believe in Forgiveness?
Even if the false accusations of years ago were true, it is obvious that Moore has decided to follow Jesus Christ. If a person repented from something four decades ago, don't we believe God's mercy forgives a Christian's sins by Jesus' blood? After all, Peter was forgiven for denying the Lord. David committed adultery, repented and is known as a man after God's own heart and the leading King of Israel.
In the USA, we believe a man is innocent until proven guilty.
5. Jesus Says Roy Moore Has Good Fruit
Is Moore qualified to be Alabama Senator? As Jesus says in Matthew 7:16-17, let's look at Roy Moore's fruit, for a good tree produces good fruit. Moore:
Refused to remove the Ten Commandments, so the GOP swamp removed Moore from being Alabama Chief Justice. God gave us the Ten Commandments. Our Christian founders believed the Ten Commandments are the basis for law.
Stands up greater than any representative that marriage is one man and one women and opposed Barack Obama, a reprobate. For following God, Moore was unjustly removed from being Alabama Chief Justice a second time.
Believes "the LORD is our lawgiver" as the Bible teaches.
Is "a life-long Alabamian and a committed constitutional conservative that has stood up for liberty and religious freedom his entire career," according to a statement that Moore released.
Jesus Christ says that Moore loves God, because he obeys God's commandments (John 14:21). That is why Americans suspect the establishment (swamp) GOP hates Moore. However, Jesus teaches the Democrat running against Moore hates God, because the Democrat is for abortion, transgender and other sins (John 14:21).
If you want to make the USA great again, then donate today to launch AmericaFirst.win with expanded coverage. We are not government funded and need to raise $24,000 from readers to operate full-time with real news for America!
6. Alabama Women Affirm Roy's Moore's Moral Character
In a statement, women stood up for Moore:
"I have known Roy Moore for about forty years. Roy and I briefly dated when I was in my twenties. While I was around Roy, either just the two of us or with other people, he was always a true gentleman treating me with respect and courtesy. I can honestly say that I never have seen or heard any inappropriate remarks or behaviors while he was around me. I believe that Roy lives by his Christian beliefs and is a good man.
– Jennie Klingenbeck, Birmingham, AL (previously Gadsden, Alabama).
"My first remembrance of Roy Moore was grammar school… He was always a gentle, kind boy and grew into an even more admirable man. He was my softball coach in my high school days and was always such a kind person, never a mean or hateful word to any of us. Only kindness and utmost respect! Have been friends with all of his family for many, many years. NEVER heard ANY mention of any such behavior in all these years. Have seen him at the local church several times with his knees bowed in prayer at the altar. Takes time to listen to people. Just a wonderful, Christian man in a small rural community. Devoted to family, friends and most of all God. Proud to know him and will continue to support him with our presence and prayers."
– Sharon Lamkin, Gallant, Alabama
"I have known Roy for over 30 years. I met him in 1984 when he met my sister in church and began dating her. He has always showed honor and dignity. I truly can't even begin to grasp that people would question his character. He has lived by what he preached since the day I met him."
– Kandi Kisor Smith, sister of Kayla Moore.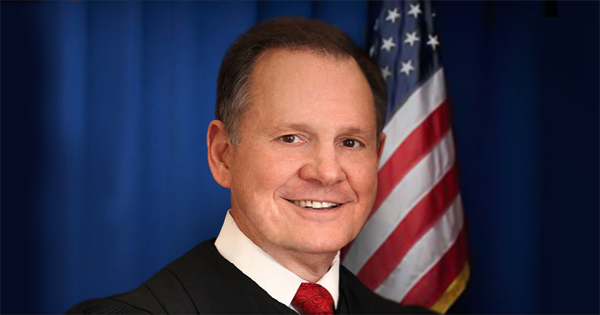 7. Roy Moore Matches the Bible's Qualification for Leaders
To fear God, which is to obey Him, is the number one qualification for a political leader (Exodus 18:21, 2 Samuel 23:3). This article proves that Roy Moore matches what God says to look for in choosing the next Alabama Senator.
Conclusion: You Will Be Blessed with Moore, but Cursed with Jones
The Bible teaches that God blesses those who obey Him, but those who disobey God are cursed (Deuteronomy 28). Roy Moore is known as a man after God's own  heart. Many pastors see Moore as the most upright politician in the nation. By voting for Moore, you are welcoming God to the country.
President Trump tweeted that Jones is bad on crime, bad on healthcare and opposes protecting our borders from dangerous people.
What scares the Democrat and GOP swamp is Moore believes, like our founding fathers, that "the LORD is our lawgiver" (Isaiah 33:22) and God blesses the USA for marriage of one man and one woman (Romans 1:21-32) and being pro-life (Exodus 20:13). The Democrat, radical Doug Jones, on the other hand would bring a curse to Alabama and country since he disobeys God with transgender and full term abortion sin. Sin is the greatest danger to our national security. Israel's sin brought them into captivity.
The USA needs Roy Moore in the Senate; this is God's will to heal our land (2 Samuel 23:3). If you want God's blessings for the USA and not God's judgment, then let's unite the USA in Christ and stand up for Roy Moore for he stands up for God!
"I don't believe it [the accusations]!! Me and my family will be voting for you [Roy Moore]! The Bible says that no weapon formed against you shall prosper!!! In Jesus name!!! Stand strong we are praying for you!!!" posted Felicia Branham on Facebook.